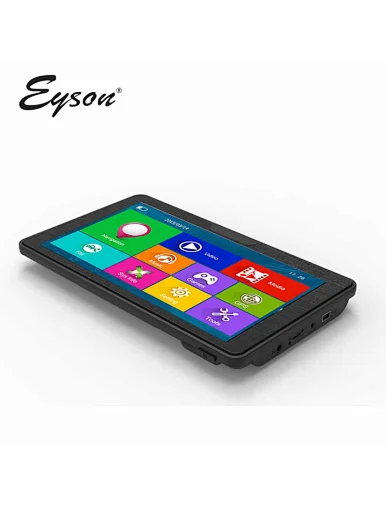 7-inch Car GPS Navigator with Bright, Crisp High-resolution Maps And Voice Assist For All Cars Lorry Trucks
price
US $35.00 - US $42.00 / pieces
🚗【Free Lifetime Map Updates】GPS Pre-installed with the 2022 latest North America Map, including USA Canada Mexico Maps, which has 2D / 3D map display. If you need to update the latest Map, please contact us to download it. (Downloadable but not pre-installed maps: Europe, UK, Ireland, Australia, and so on)
🚗【 7 Inch Big Touchscreen GPS】ESSGOO Truck GPS navigation system with 2D / 3D navigation maps, the display was clear and accurate. The professional GPS navigator with a bright 7inch large Touch Screen for truck drivers is easy to use clear and sensitive, resolution 800 x 480.
🚗【Trucking GPS Navigation System 】 (1)Fast and economical intelligent route planning. (2)Support Postcode, Address, Coordinates, Favorite, and POI Search. (3)Support GPS time or Map time setting. (4)Support FM broadcast, but FM does not mean FM radio, just for transferring the gps sound to your car. (5)Driver Alerts, Active Lane Guidance assist Active Speed Camera Detection, Street name Broadcasting, Turn-By-Turn Real Voice Broadcast.
🚗【Professional Car GPS Navigation】You will get the best 7 Inch Touchscreen Trucking GPS System. (1) Intelligent Route Planning Fast & Economical. (2) Fast & Accurate GPS Tracking. (3) Current Speed, Lane Guidance & Estimated Arrival Time. (4) This is customized to provide better routes for your chosen mode and avoid roads with width/height/weight restrictions. (5) Multiple Vehicle Modes, including Car/ Truck/Motorhome/RV / Emergency/ Bus/ Taxi.
🚗【After-Sales Service】We Offer You 100% Satisfaction 90 Days Hassle-Free Money Back Guarantee, And Lifetime Warranty. If You Have Any Questions About GPS Navigation, Please Contact Us Via Amazon Message. We Will Reply to You In 24 Hours.