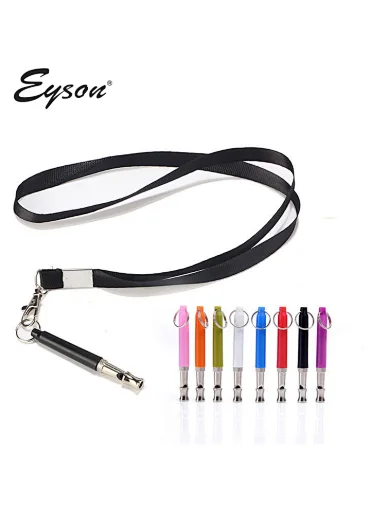 Eyson Hot Selling Wholesale Adjustable Sound Stop Barking Training Pet Dog Whistle Dog Training Whistles
price
US $0.50 - US $1.00 / pieces
【EASY TO ADJUST】: You can easily teach your dog by adjusting different ultrasonic frequencies, specifying commands like"don't move","sit down","come here"and more. Please keep your whistle orders consistent. For example:"Don't move","Two short beeps","Sit down","One long and one short". Notice your dog's reaction to each setting until your dog exhibits the strongest reaction.
【DOG WHISTLE TO STOP DOG BARKING】: This is a Professional Ultrasonic dog whistle that stops barking quickly and helps you teach your dog obedience and learn basic skills. When your dog or neighbor's dog keeps barking, gently blow the dog whistle, the ultrasonic frequency emitted by the dog whistle can easily attract the dog's attention and stop barking.
【RECALL TRAINING】: Dog whistle ultrasonic waves can travel up to 200 meters. After training, even if the dog is not in your field of vision, use the dog whistle to let the dog come to you at any time without shouting. The dog whistle ensures they obey basic skills such as sit, paw, lay down, get up, heal.
【ABSOLUTELY SAFE】: The silent dog whistles is made of high quality and durable stainless steel. Ultrasound frequencies attract the attention of dogs without damaging their hearing and without any health problems. Our dog training whistles come with a high-quality lanyard, it allows you to take this dog whistle to anywhere.
【TRAINING TIPS】: Your dog needs you to patiently repeat the ultrasonic whistle for command training. Also, use methods of rewarding positive behavior to make your dog a listening and obedient friend. The training effect will be better when the dog is 3 to 7 months old.