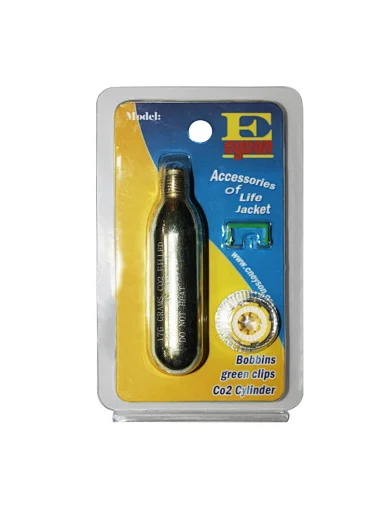 Eyson Accessories Bobbins 17g Co2 Gas Cylinder For Life Jacket
Pressure:High
Place of Origin:CN
Material:Steel
Use:Inflatable Life Jacket
Model Number:YSH501-17
Brand Name:Eyson
Product name:17g Co2 Cylinder For Life Jacket Vest
Usage:Inflatable Life Jacket Accessories
Weight:62.5g
MOQ:10 pieces
Size:8cm*2cm
Packing:Opp Bag
Keyword:17g Co2 Cylinder
Advantage:Factory Direct Wholesale
Service:OEM ODM Customized
Additional instructions for CO2 cylinder:
1. Improper installation of automatic inflating device before CO2 installation will lead to immediate inflating
2. Co2 gas cylinder can only be used once, not again
3. The protective coating on the surface of Co2 cylinder may begin to show some signs of rust after being placed or used for some time. In this case, the Co2 Cylinder For Life Jacket Vest should be replaced
Before repeated use, the sheath must be checked for any defects, and then installation instructions :
1. unscrew the Co2 cylinder counterclockwise.
2. hand pneumatic rod combined into pneumatic components and green safety buckle, can be as far as possible to protect the pneumatic rod will not be wrong;
3. check the pneumatic components and carbon dioxide bottle to bottle mouth hole gasket, if there is damage, replace gasket;
4. fix body melt dissolve, then dry body water into new dissolve bolt, screw nut;
5. Check the new carbon dioxide bottle to ensure that it is smooth without damage or abrasion signs;
6. will protect clockwise to the new cylinder, pneumatic element body according to the tension, but not too tight,
7. Before each use, check whether the pneumatic component is installed on the indicating device, which will indicate whether it can be used.
In addition, the Co2 gas cylinder should be checked regularly to ensure that it is not punctured